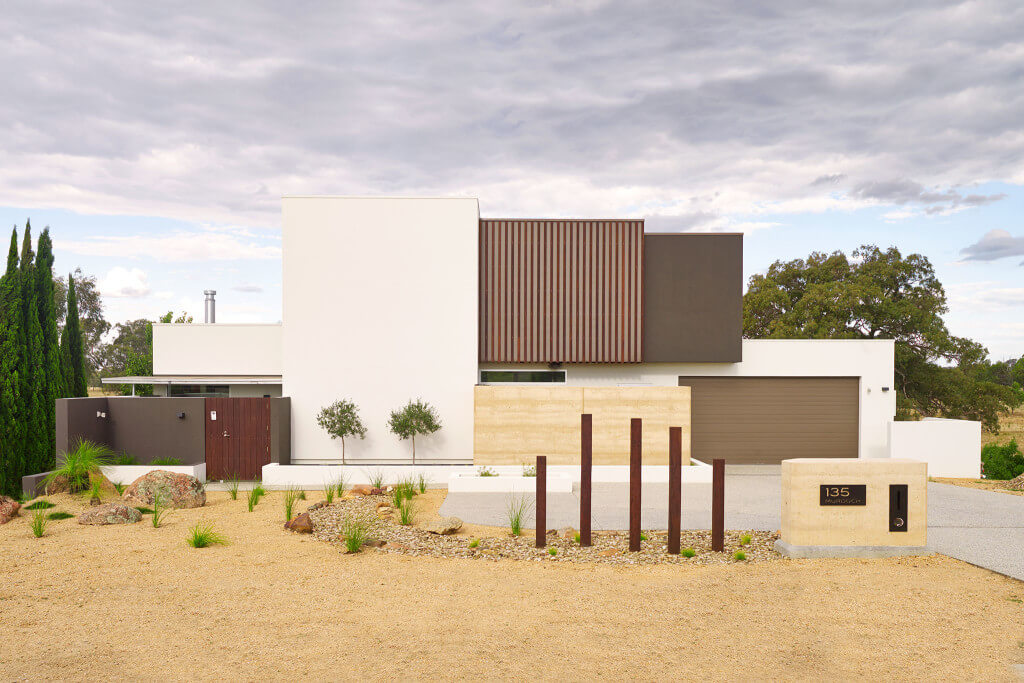 Wangaratta Eco-friendly home crafted by Bright Alpine Builders, Bright Victoria wins 2015 HIA Best Custom Built home over $1 million.
Winner 2015: Bright Alpine Builders Pty Ltd
HIA Eastern Victoria, Best Custom Built home over $1 million
HIA, the national industry association for Australian building professionals, this week announced Bright Alpine Builders Pty Ltd as a major award winner at the HIA Eastern Victoria Regional Housing Awards held at Balgownie Estate Vineyard Resort and Spa in the Yarra Valley, September 18, before a crowd of local industry leaders and peers from across the Eastern Victoria region.
The award for HIA Eastern Victoria, Best Custom Built home over $1 million went to a unique eco-friendly, composite material Wangaratta home custom built by Bright Victoria's Steve Graves; whose local company Bright Alpine Builders Pty Ltd is also well known for building several high profile alpine developments such as the Mount Hotham Police Station, Cobungra Station and the recently completed Koomerang ski-lodge at Mount Hotham.
The winning house, situated on the outskirts of Wangaratta Victoria was completed in 2014 and was a complex build as its structure spans in part a steep Easterly slope. Featuring three levels of stepped structural genius, the house is constructed of various materials including exposed internal steel beams, electronically controlled aluminum louvers to combat the harsh Australian sun, sound and thermally efficient Koolwall fiberglass-coated polystyrene and rammed earth sections, as well a host of Australian natural timbers.
Internally the house also wows visitors with its all steel and glass-framed stairwell; and its cathedral ceiling open-plan kitchen, living, dining area. Here too there is floor to ceiling glass that showcases expansive Ovens River flats rural views.
Bright Alpine Builders' Wangaratta custom home build now goes into the Victorian state final awards category of the best custom built home $1-$2m dollars on November 6.
While Steve Graves is somewhat humble in mood regarding his win, he does say:
"This award means a great deal to me as it acknowledges within the building industry that our team at Bright Alpine Builders are at the top of their tree as far as delivering the absolute best for themselves and our clients."
"It gives us all a great sense of satisfaction to receive such an accolade."
In many ways this award can be seen as an acknowledgment of Steves' ongoing build philosophies, as he states on his website that Bright Alpine Builders believes that ecologically sustainable building techniques should be standard.
Always striving to build better, Steve says he aims to integrate more intelligent building techniques into future properties to keep his business at the forefront of the custom home building industry.
Statement from HIA:
"A well thought out pallet of materials complement each other to provide a rural feel to the facade, while the bold design portrays a striking modern home in its urban setting. Set on an unusual sloping block, the home is built over three levels with the ground floor completely concealed from street view. Double thickness walls to the west side were introduced to enhance acoustic and thermal insulation thus reducing road noise and to allow for greater insulation. The eastern elevation boldly displays large galvanized pergola beams, which give a hint as to the large structural steel component of the home. Structural steel has been left to feature internally through the living areas providing a 'raw' strength to the home."