Somewhat of a hero piece for Master Builder Steve Graves, this lifestyle retreat of distinction in the upper Buckland Valley, Victoria incorporates a grand formal entry, open plan kitchen, second level adults retreat and a well-thought-out wine cellar/tasting room.
Dramatic and beautiful use of timber is presented in the L-shaped formal foyer, a dual entry space with custom-made blackbutt heavy set doors. Select grade, blackbutt timber is also used for the decorative interior wall panelling. On the floor, meticulously laid random slate evokes the rustic tones of a smooth creek bed, a theme that continues and seems to flow outside aided by a collection smooth river rocks.
Rising from the entry is the steel and timber staircase, its balustrade is a sculptural work of art and comprises staggered spotted gum vertical slats that provide great theatrical appeal plus additional sight lines due tot the separation of the slats.
A second-level master suite uses spotted gum forming a timber-slat screen separating the bedroom from the ensuite.  Updating the home to a timeless yet contemporary feel was a complex task, with the extension needing to integrate with a 1970s stone cottage existing structure, which required new timber flooring plus a new kitchen/living room layout.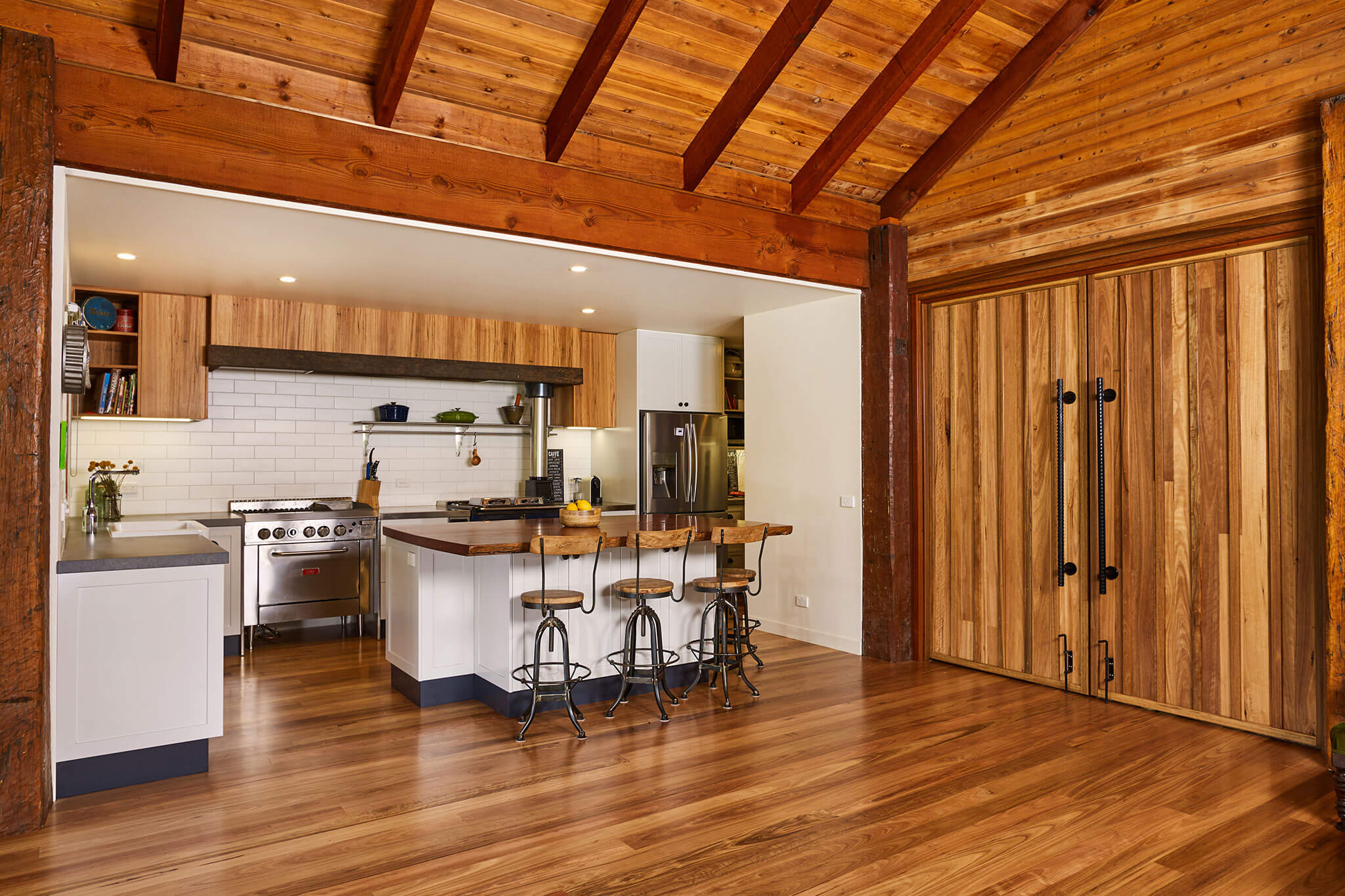 Kitchen designer Adam Williams of Wilko Cabinets, a regular contributor to Bright Alpine Builder's projects, collaborated in a masterful overhaul of the kitchen layout. 
Much of the exterior, including the carport, features a structural steel-frame component, its laminated spotted gum timber blending with the alpine mountain surrounds. With the carport, hints of steel are still visible, tying the design to the earth-toned Colorbond roof and eaves. Its columns are footed with local granite stone, adding power to the structure's form. The mood is modern, with the scale extending to a wider, more luxurious European alpine appeal.
Sustainability & Safety
As the house is located in a fire prone area, fire shutters have been installed over the windows for protection and general security. These also protect internal timber finishes inside the home from UV light – especially when the house is not in use.
The twin-gabled roof of the second-level extension creates a lovely mountain chalet character, similar to those found at Dinner Plain Alpine Village. Difficult-to-source spotted gum weatherboards line the upper exterior and have a great natural-looking rough-sawn texture. The use of a Cutek Grey Mist wood stain mimics the appearance of naturally weathered timber, while ensuring its protection. Being a super-hard wood, the spotted gum weatherboards also conform to the fire rating overlay of the block. It surprises us to learn that hardwoods with such great density are actually fire resistant.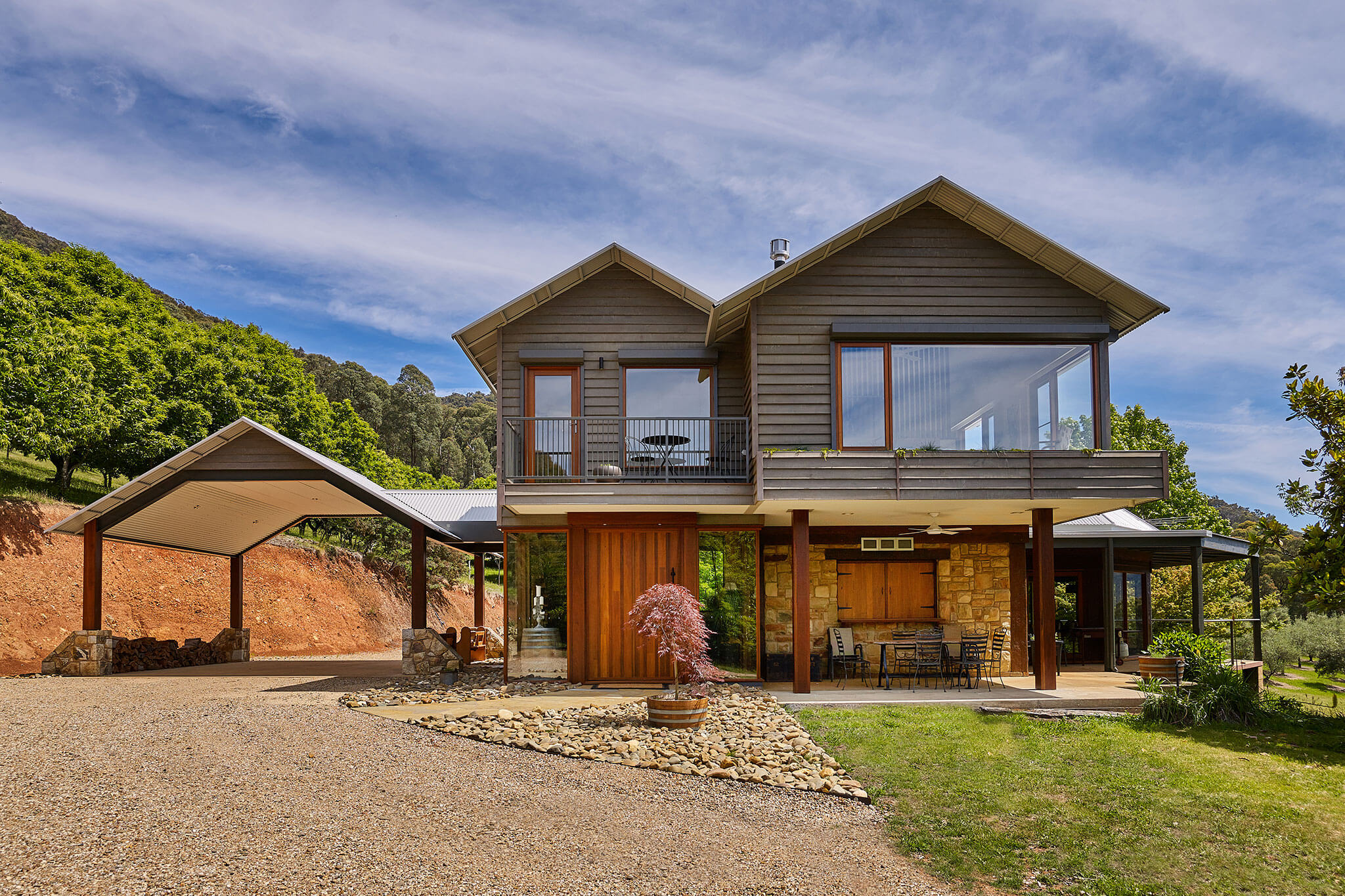 The Architect
The Buckland Valley home extension was designed by Steve Graves's long-time colleague, architect Peter Sandow from FMSA Architecture. FMSA's expertise was also used to help the property satisfy planning guidelines. Overall the project took 12 months to complete.