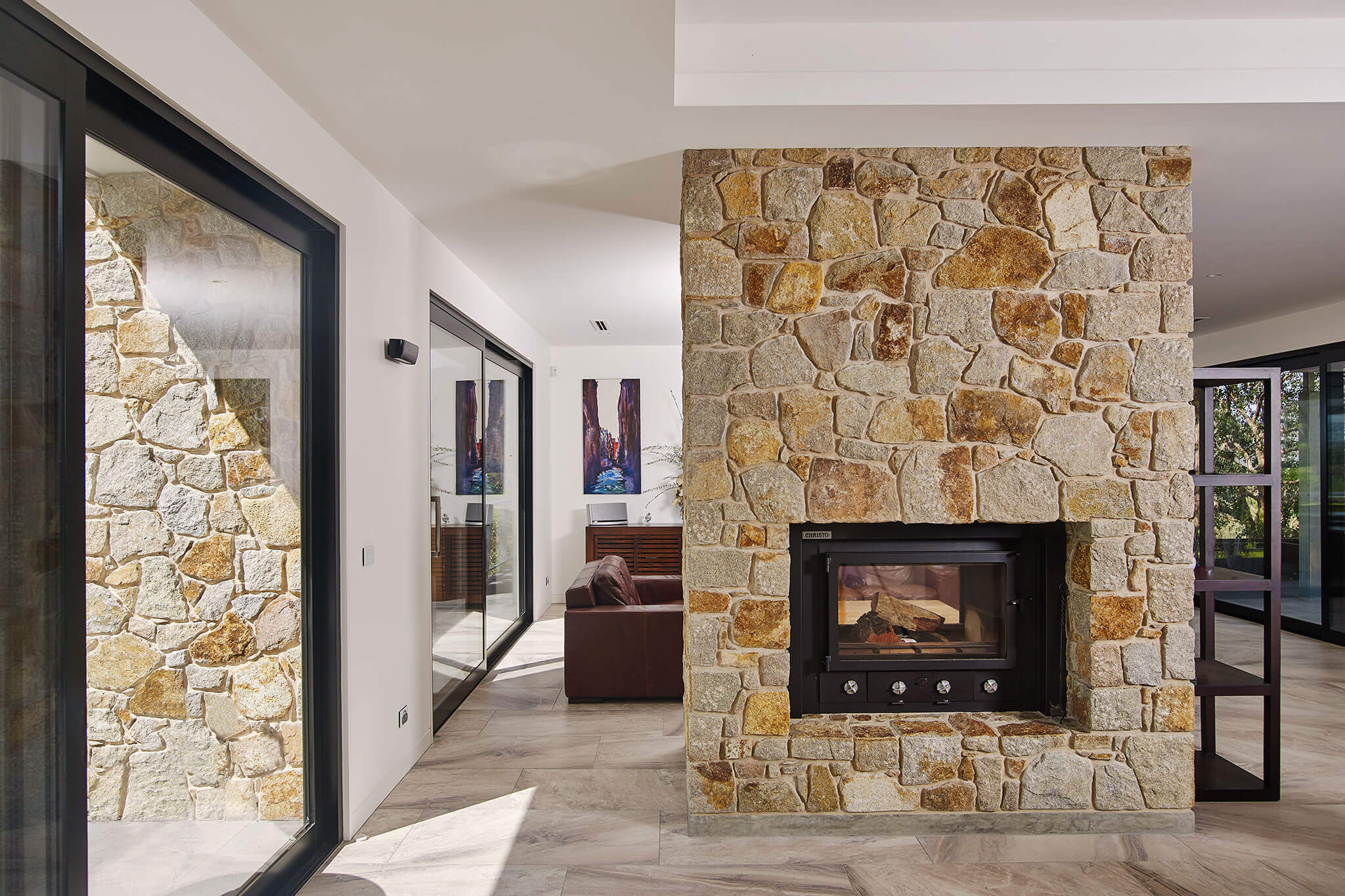 Recently completed: Bright Alpine Builders custom home, High Country Victoria.
A passive solar design was a key principle for this home, built using locally sourced materials. The result is a beautiful, hand-crafted custom home that the owners can be proud of.
Deep-set eaves shade the interior from harsh summer sun, and high-rated ceiling and wall insulation passively controls the climate. Temperature control is furthered by extensive use of energy-star-rated argon-filled double-glazed windows that ensure minimum temperature loss through 'thermal break' technology that even reduces the conductivity of the aluminium frames. The sliding doors, built the same way, glide  smoothly at a touch of their sleek gallery-inspired handles. Large glass panels showcase grand mountain vistas. Elements are so effectively controlled.
The design smarts continue with more thermal temperature control ingenuity thanks to an in-slab hydronic heating system using an ambient air heat pump – a magical device that cleverly redistributes heat where needed in winter, and is able to channel excess heat away in summer to maintain comfortable temperatures throughout the house.  A second unit uses harvested heat to warm water for everyday domestic use. These units can generate up to 4.6 kilowatts of heat output for every kilowatt of electricity used.
COR-TEN weathering steel was used to make the exterior of the home blend perfectly with the landscape. It develops a stable rust-like  finish after several years' exposure to weather: there's no need, ever, for painting. Granite stone and local spotted gum timber beams add eye-catching organic highlights for harmonious natural beauty.
An expansive central kitchen island topped with Dekton – a unique synthesised porcelain/stone surface that features zero porosity and a perfect finish. The kitchen is understated and elegant, with limited use of a charcoal stain laminate and deep neutral-toned glass splashback that sets off the induction cooktop and stainless appliances, rendering the layout both stylish and super functional.
Opposite the kitchen island is the main open-plan living space, divided into dining area and lounge separated only by a double-sided wood fire heater set within a massive granite column. A recessed ceiling above the dining area subtly adds an air of formality that makes the lounge area feel even cosier.
Steve Graves combines modern and traditional building techniques to produce outstanding performance in custom home design, always striving to build better. The detailed execution of this alpine custom home demonstrates that Steve and his team are continually raising the bar.